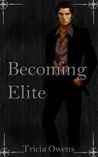 Becoming Elite
by
Tricia Owens
My rating:
4 of 5 stars
Really hot story
I liked this story very much, but it got to be a little to much of a kink in one of the scenes, because of that it's only 4 stars. BUT it's a strong 4......
The storyline was great, the writing style was easygoing and fun. I loved the characters, Max's dominance and Ethan's submission was excellent described.
I'm both looking forward and dreading reading the next book because when this book ended it was in a way that I was somewhat satisfied. I'm afraid that the next book will destroy it all. But these two men got me so intrigued that I must read the next.
Warning: This is a book with adult content and BDMS scenes which are intens.
View all my reviews