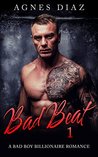 Bad Beat 1: A Bad Boy Billionaire Romance
by
Agnes Diaz
My rating:
3 of 5 stars
*I was gifted this ARC and freely give my review*
First of all; this is not a book, I don't even know if I can call it a novella it's so short. When that's said: it was promising, had a storyline with much potential and characters that could be evolved in to great personalities.
The writing style is easy but a little jumpy at times, that made it a little hard to follow and get the story rolling smoothly.
Good amounts of dialogues and not unnecessary descriptions of surroundings makes it very good in my opinion when it comes to be clear and consistent in the telling of the story.
With some 200 pages more this could be a really great book, but because of the shortness and the other things mentioned I'm sorry to leave it with only 3 stars.
View all my reviews